2013 Mercedes-Benz GL 450 | Germany Luxury for a Veteran TLC & UberBlack driver
The 2013 Mercedes-Benz GL 450 is the latest car to be reviewed by TLCMKT.
We speak with Sandro Pichardo, a TLC veteran who's been in industry since 1996. Sandro, a native New Yorker, provides a brief insight into his history in the industry from being a Yellow Cab driver to shifting to Uber in October 2013. Sandro only does UberBlack (has done over 4,500 UberBlack rides!) and during COVID stopped driving for Uber, but did participate in the NYC food delivery program for TLC drivers.
Sandro drives a 2013 Mercedes-Benz GL 450, a 7 seater V8 Mercedes SUV. Its German aesthetic/refinement combined with ample space has served Sandro well as an UberBlack/private client driver. Although it's a 2013, many passengers believe it is much newer as the Mercedes GL (now called GLS) shape has relatively stayed the same and the car is kept extremely clean! The video overviews the GL 450's exterior and interior and some pros and cons about the car. We hope you enjoy the video and let us know what you think in the comments!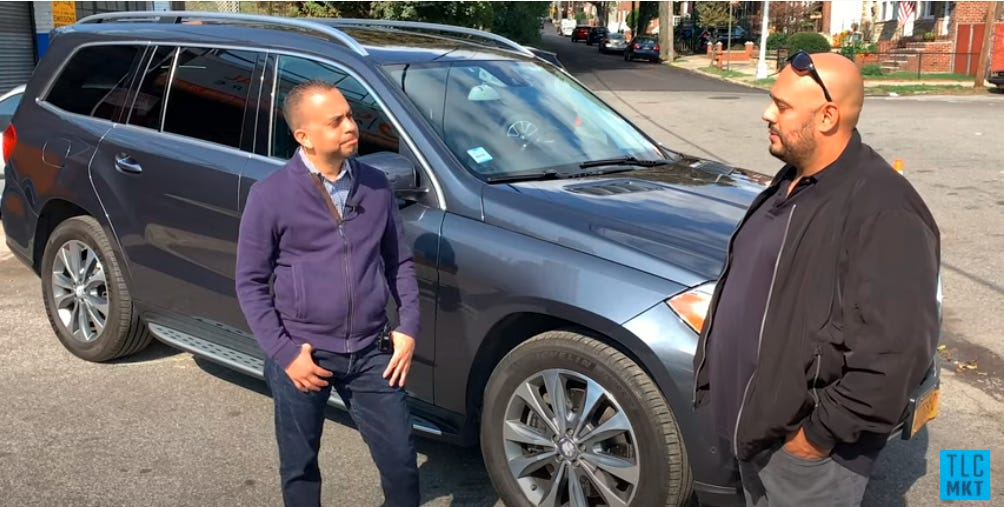 Link to video
Let's connect! Are you a NYC TLC driver? Do you want your car to be reviewed? Do you want to be interviewed about your experience as a TLC driver in NYC? Please reach out at info@tlcmkt.com✍️
The TLCMKT Newsletter is written by Dawood Mian, Founder & CEO of TLCMKT. I cover the NYC ridehailing industry and related news. Search TLCMKT for TLC cars, parts, service, accessories, professional services, reviews & more. Find great deals at TLCMKT.COM.