NYC Yellow Cab Roof Rights Acquired
SF-based Firefly says it holds rights to nearly half the yellow & green cab rooftop ads
Welcome to the TLCMKT Newsletter by Dawood Mian. We cover all things NYC ridehail. Search TLCMKT for TLC car, parts, service, accessories, reviews & more. Find great deals at https://tlcmkt.com/.
Publicly-listed holding company Ballantyne Strong (NYSE American: BTN) announced on August 4th that it completed the sale of its Strong Outdoor taxi rooftop assets to San Francisco-based startup Firefly. As part of the deal, Ballantyne increased its strategic investment and ownership position in Firefly as well. BTN will also recognize a non-cash $5m gain in its Q3 results as a result of the transaction (for reference BTN FY 2019 Adj. EBITDA was $1.4m on $63m of sales) .
Taxi Rooftop Investment Started in 2018
In early 2018, Strong Outdoor outbid previous ad operator Curb Mobility for the rights to ~3,500 yellow taxi rooftops (Note: about 9,000 of 13,587 licensed yellow cabs have roof ads). Strong's strategy was to upgrade old static taxi-top ads to high-resolution digital screens, which could tailor ads based on location. Brands, including American Airlines, Air France and fashion designer Zachary Pell, bought in to the idea and began to run ads on the upgraded rooftops. In May 2019, Strong initially transferred its digital taxi-top assets to GV-backed digital media company Firefly with the current transaction completing the sale of the remaining assets in exchange for Firefly equity.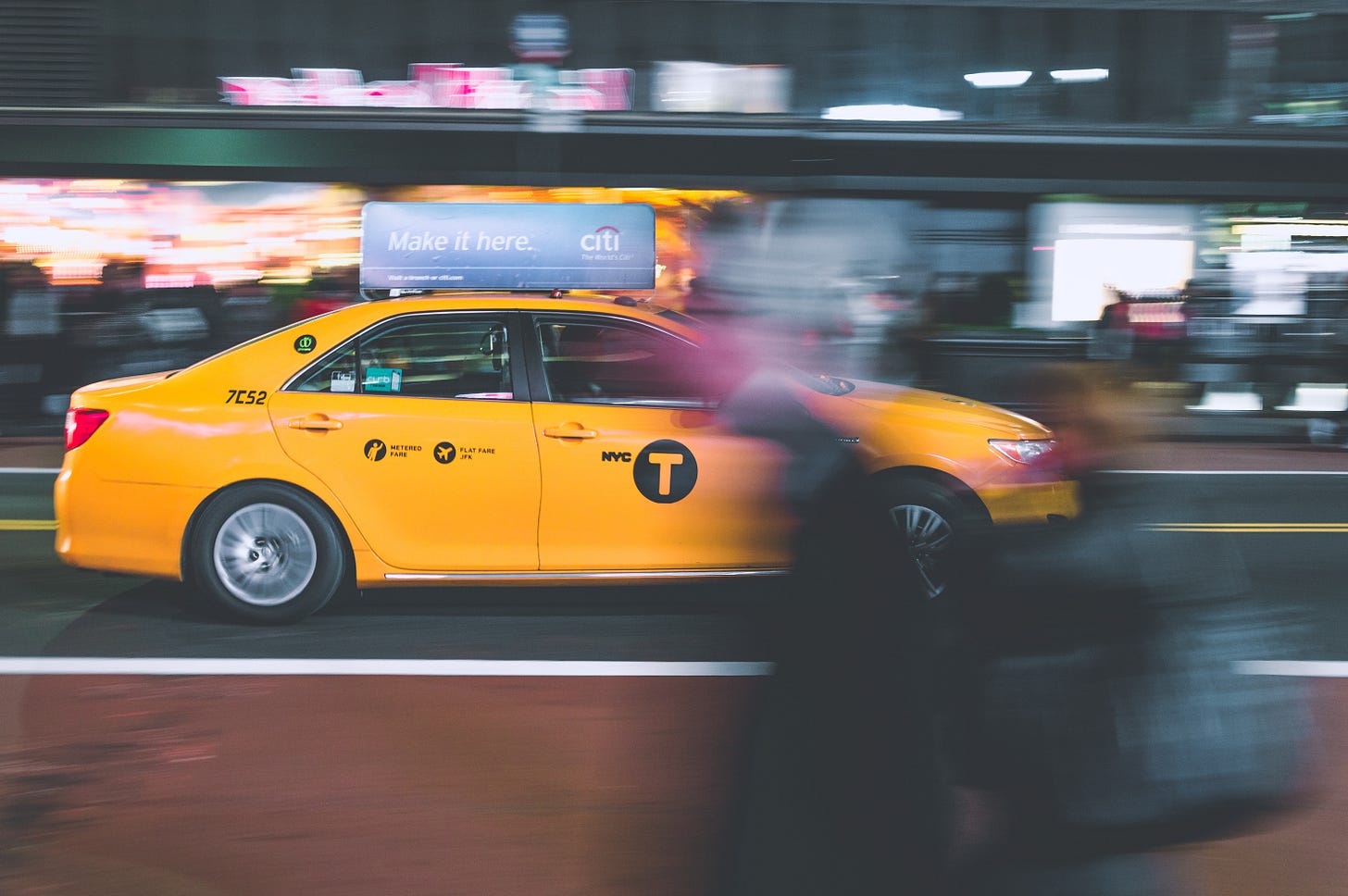 Photo Credit: Edoardo Busti
Firefly
Firefly, a startup that allows rideshare and cab drivers to make money through digital advertising on top of their cars, launched in late 2018 after raising $21.5m in seed funding. At the time co-founder and CEO Kaan Gunay described the company as being focused on "developing core IP " and that the displays would serve as a foundation for a "smart city data network". The ads were also pitched as a dynamic outdoor advertising medium that would also allow rideshare drivers to earn additional income (reported to be ~$300 per month). The seed round was followed 6 months later by a $30m Series A, led by GV (formerly Google Ventures).
"Firefly is creating a significant new ad format at scale," said GV's Adam Ghobarah in a statement. "In addition to taxis, the scale of rideshare networks has created a large opportunity to provide digital out of home advertising with granular city-block and time targeting."
The company currently has drivers on its platform across the US and has offices in San Francisco (HQ), NYC, LA, Chicago, Dallas and Istanbul.
NYC Banned Rooftop Ads on Uber & Lyft Cars
The recent move by Firefly comes after the NYC Taxi & Limousine Commission (TLC) banned display advertising on both the inside and outside of for-hire vehicles (excluding the medallion cab industry) in August 2019. The ban was controversial and upset some drivers who lost out on a way to generate additional income. Explaining the decision at the time, TLC spokesperson Rebecca Harshbarger said the public sphere and city landscape would be negatively impacted if too many cars had digital rooftop ads.
The TLC had always prohibited advertising in for-hire vehicles, and this was upheld in a federal court decision last month. We've seen no evidence of drivers benefiting from advertising, and only 70 out of 120,000 for-hire vehicles have permits for exterior ads (which they received while our rule was temporarily enjoined in February). - Rebecca Harshbarger, TLC spokesperson
She also compared the ads to the floating billboards that had been recently banned on NYC waterways. Explaining the logic behind allowing the ads on yellow medallion cabs, Harshbarger stated.
Yellow cabs are permitted to have advertising because of the technology that taxis are required to have," she explained, noting that taxis themselves currently facilitate credit card payments and collect data on each trip to help with enforcement, finding lost property and studying traffic patterns. "Advertising helps to defray the cost of the technology system in taxis. For-hire vehicles, such as black cars and livery cars, are not required to have this technology.
According to Crain's, City Councilman Ydanis Rodriguez, head of the council's transportation committee, proposed a bill at the start of the year that would negate the TLC policy banning ads for Uber and Lyft vehicles. The legislation though has stalled since a tense hearing earlier this year in which yellow-cab drivers told the council that ads from Uber drivers would saturate the market.
Will the Ultimate Value of the Medallion be Its Access to the Taxi Rooftop?
As yellow (and green) cab volumes continue to hit record lows, the value of the once million dollar medallion has now fallen more than 85%. The industry has gone from distress to deeper distress. However, if one believes NYC will regain its glory at some point in the future it creates an interesting question…Could the ultimate value of the yellow cab medallion be the exclusive right to have a moving digital billboard throughout the City?
The TLCMKT Newsletter is written by Dawood Mian, Founder & CEO of TLCMKT. I cover the NYC ridehailing industry and related news. Search TLCMKT for TLC cars, parts, service, accessories, reviews & more. Find great deals at TLCMKT.COM.