NYC Dash Cam Series: Bicyclist Hit Near the Manhattan Bridge
NYC Dash Cam Series will serve as a free educational tool and database for NYC TLC rideshare drivers. If you are driver with dash cam footage documenting an accident or incident please reach out.
We share August 2019 footage recorded near the off ramp of the Manhattan Bridge in Brooklyn, NY. The TLC driver, who had a clean driving record before this incident, unfortunately makes a bad judgement call as he attempts to pass traffic to presumably make a turn up ahead. As he begins to pass cars, a bicyclist suddenly appears and an incident occurs. Luckily, the speed at which the impact occurs was slow and the bicyclist walked away with no major injuries. That being said, the situation could have ended more tragically. Driving rideshare in NYC is not for the faint of heart, drivers are constantly tested in a variety of difficult traffic situations and learn shortcuts. While most shortcuts often don't lead to incidences, it's always important to remember waiting that extra minute can make all the difference. Stay safe out there!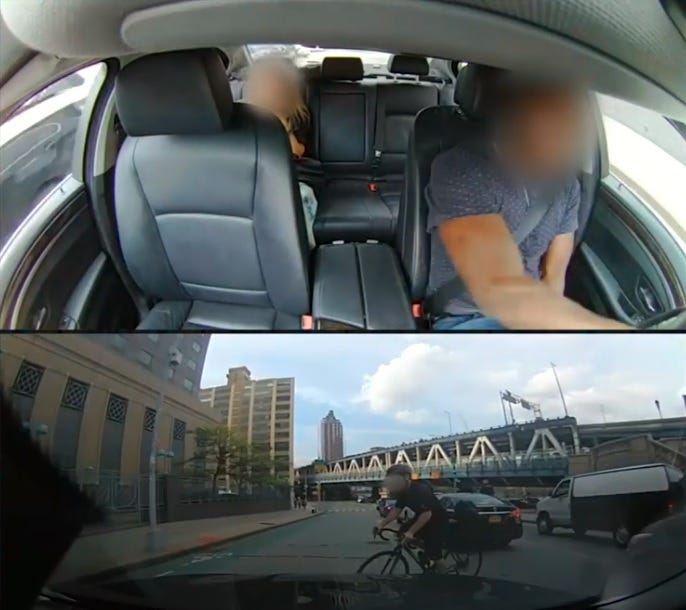 Are you a TLC driver who has Dash Cam footage they want to share? Reach out at info@tlcmkt.com. Every video sent to us and that receives 1,000 views in the first 15 days, will get a $50 gas card.
The TLCMKT Newsletter is written by Dawood Mian, Founder & CEO of TLCMKT. I cover the NYC ridehailing industry and related news. Search TLCMKT for TLC cars, parts, service, accessories, professional services, reviews & more. Find great deals at TLCMKT.COM.