NYC Dash Cam Series: Rear-End Collision in Midtown Manhattan
NYC Dash Cam Series will serve as a free educational tool and database for NYC TLC rideshare drivers. If you are driver with dash cam footage documenting an accident or incident please reach out.
We share July 2020 footage recorded in Midtown Manhattan. The TLC driver unfortunately is slow to react to a vehicle in front of them that abruptly stops. Luckily, the speed at which the impact occurs was moderate and everyone involved, including a passenger, walked away with no major injuries. The same though cannot be said for the driver's car, which was a luxury sedan that ended up costing thousands of dollars to fix.
Driving rideshare in NYC is difficult and one must be attentive to his or her surroundings. While you could argue the vehicle in front of the TLC driver stopped-short, this sort of situation is not uncommon in NYC where cars are constantly weaving in and out of traffic. From an insurance perspective, almost any time a person rear-ends someone else they (i.e. the person who rear-ends the car in front of them) will be found at-fault. At-fault accidents are a common reason why some TLC drivers experience higher insurance premiums. Stay safe out there!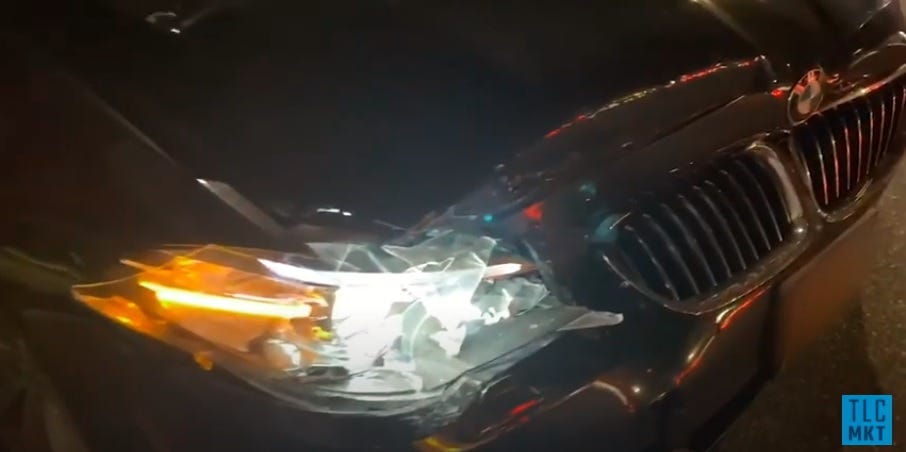 Are you a TLC driver who has Dash Cam footage they want to share? Reach out at info@tlcmkt.com. Every video sent to us and that receives 1,000 views in the first 15 days, will get a $50 gas card.
The TLCMKT Newsletter is written by Dawood Mian, Founder & CEO of TLCMKT. I cover the NYC ridehailing industry and related news. Search TLCMKT for TLC cars, parts, service, accessories, professional services, reviews & more. Find great deals at TLCMKT.COM!