Second Largest NYC TLC Rental Fleet Company May Have Exited Business?
TLCMKT analysis shows that Lyft-owned Flexdrive has gone from over 3,000 active FHV vehicle licenses (aka TLC-plated cars) before the pandemic to just 10 currently
Let me first start off by saying assessing how many vehicles the largest NYC for-hire ("TLC") fleets own is part science and part art, as vehicles can be registered under multiple LLCs or companies. That being said, there are a few large single entities that own many cars and which you can associate with an ultimate parent company. It may come as no surprise that the largest TLC fleets include official Uber NYC rental partners American Lease, Fast Track, Buggy and Tower. What may come as a surprise though, is according to my analysis Lyft-owned Flexdrive was, until recently, operating the second largest TLC fleet in NYC with over 3,000 cars. Interestingly, Flexdrive did not have an official retail storefront except for Lyft's office in LIC's Falchi Building. From my analysis Flexdrive's move to essentially make all its plates inactive is not indicative of an FHV license ("TLC plate") storage strategy, but rather a company exiting the market altogether. Given publicly available information is imperfect, below I detail my findings.
Flexdrive
On February 11th, 2020, just before the COVID pandemic hit North America, Lyft announced the acquisition of Flexdrive for about $20 million along with the assumption of debt and lease obligations. Lyft has partnered with rental companies, such as Flexdrive, Hertz and Avis Budget to facilitate rideshare rentals across the country. In its financial statements Lyft would often refer to Flexdrive as its "Select Express Drive Partner", a name that is likely more familiar to drivers. Flexdrive was launched as a car subscription program in 2013. The Company was a joint venture between Cox Automotive, owner of Kelly Blue Book, Autotrader.com and Manheim Auctions, and Holman Enterprises, a global fleet management company.
For those who follow Lyft, the acquisition wasn't all that surprising given the company's announced intention to get more involved in vehicle rentals and maintenance via Lyft "Driver Hubs", publicly committing $100 million to the initiative in 2018. Then COO Jon McNeil, who has since left Lyft to launch his own investment fund, laid out the grand vision for the Driver Hubs.
In a collage of photos at our San Francisco headquarters, one snapshot stood out to me on my first day: a softball team of drivers in Chicago, all smiles on the grass at Sheridan Park after a game. Talk to any early employee and you'll quickly understand that a strong driver community is built into Lyft's DNA — drivers come together for sports leagues and family Thanksgivings, battery jumps and coffee breaks.

I've now seen for myself the bonds that form when drivers get together, and it challenges a perception held by some people that rideshare drivers are competitive rather than supportive of each other. Our market share is now 35% nationwide, and over 50% in some markets — with plenty of Lyft rides to go around, all drivers benefit when they can turn to each other for advice.

To that end, we're designing the new hubs to foster these connections at scale. Drivers can reserve space to host skill-sharing meetups, like how to earn more tips or drive in a new city, or network around common interests like volunteering or entrepreneurship. - Jon McNeil, Lyft COO, May 2018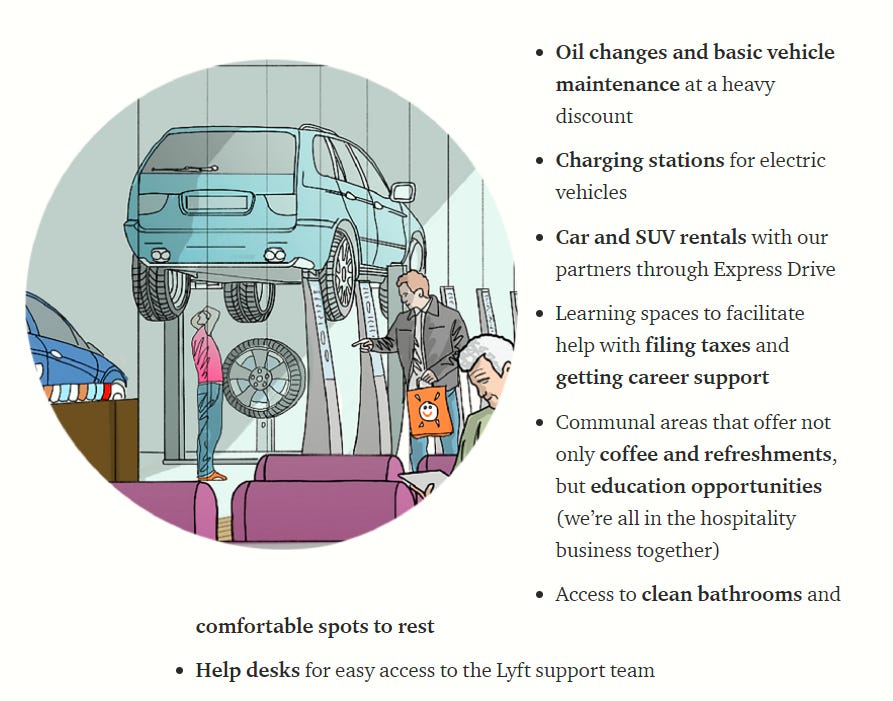 Photo Credit: Lyft
Flexdrive in NYC
Express Drive, the Lyft rental program that Flexdrive participated in, was (and still appears to be) promoted to NYC TLC drivers. It is widely known that drivers who rent/rented from Lyft directly, often got preferential treatment (i.e. more rides, always able to get online with the App, roadside assistance).
In March 2019, the single entity Flexdrive Services LLC had 1,288 cars associated with it and by January 2020 the same entity had 3,132 vehicles! (Note: It's somewhat confusing how so many vehicles were added when the FHV license (often referred to as 'TLC plate') cap was established for over one year at that point, but there is simply not enough information to reach a definitive conclusion (i.e. Did Flexdrive apply for thousands of vehicle licenses before the August 2018 TLC plate cap?)
Some may say Flexdrive Services LLC could be another large TLC rental company that just happened to have a similar legal name, but I do not think that is the case for several reasons.
I've identified the LLC entities for the other large TLC rental companies.

The cars owned by Flexdrive Services LLC are all associated with Lyft's dispatching base Endor Car & Driver LLC.

A large portion of the cars owned by Flexdrive Services LLC are Hyundai. When Lyft acquired Flexdrive it revealed a large financing arrangement with Hyundai Capital America (HCA), implying a large portion of the fleet would be Hyundai. In addition, most large TLC fleets have the Toyota Camry as the standard vehicle and Flexdrive didn't appear to own any Camrys.

All Flexdrive cars were either 2018 or 2019, an unusually fresh fleet vs. the other large TLC rental companies.
As of September 11, 2020, Flexdrive Services LLC had only…10 cars associated with it! An astonishing drop in the number of vehicles. Other large TLC fleet rivals American Lease, Fast Track, Buggy and Tower did not record anywhere near such dramatic declines and therefore I believe Lyft-owned Flexdrive may have permanently exited the NYC TLC rental market.
Let me know if you think my logic or analysis is flawed in any way as it is based on imperfect publicly available information. In addition, if you are a NYC TLC driver that rented a car through the Lyft Express Drive program please comment below or reach out at info@tlcmkt.com on your experiences. I have personally heard through the TLC grapevine that some drivers who rented from Lyft's Express Drive program were proactively asked to return their cars in April and May.
The TLCMKT Newsletter is written by Dawood Mian, Founder & CEO of TLCMKT. I cover the NYC ridehailing industry and related news. Search TLCMKT for TLC cars, parts, service, accessories, reviews & more. Find great deals at TLCMKT.COM.