TLC Website Updated on Guidance Related to FHV License Pause (aka TLC Plate Cap)
TLCMKT noticed a change to the TLC home page, which makes questions around the FHV License Pause (aka TLC Plate Cap) more prominent and clear cut.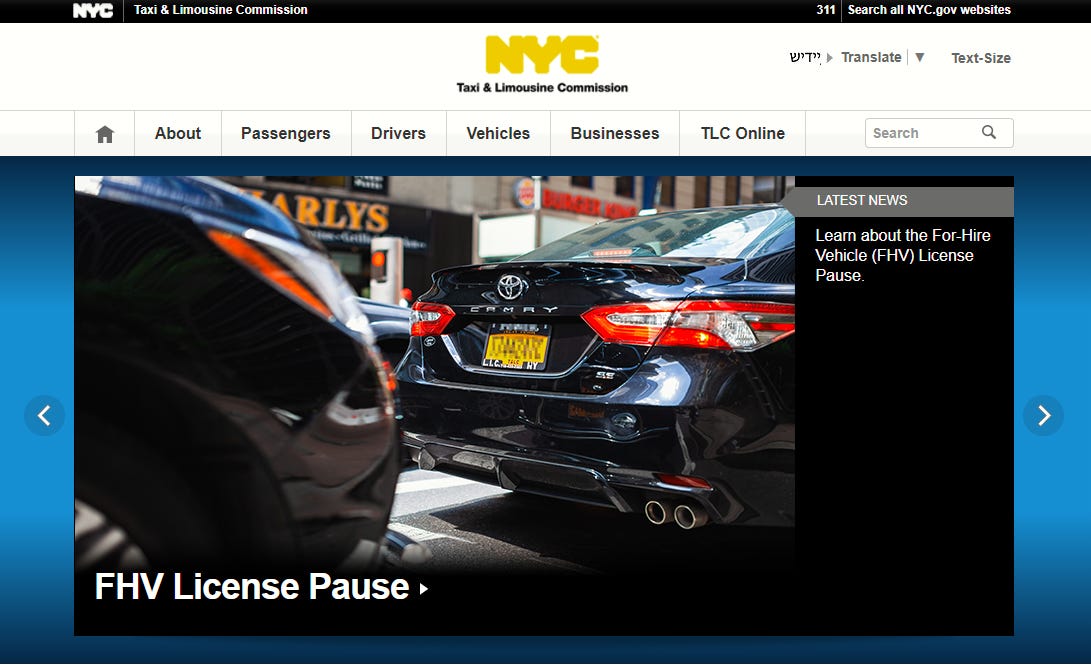 Image: NYC Taxi & Limousine Commission Home Page
I regularly check the TLC website and have called the TLC several times regarding the "TLC plate cap". It appears the website and certain text has been updated.
The TLC has now made clear that a review will be conducted every August and February (i.e. six month intervals) in perpetuity. The results of each half yearly review, and the number of licenses to be issued in the next six months, will be posted on the TLC's website when a review is complete. The bi-annual review will analyze the following in determining the number of vehicle licenses to issue:
Congestion levels

Driver pay

License attrition rates

Outer borough service

"Any other information TLC deems relevant"
At this point, it appears a new regime is now in place related to NYC for-hire vehicle licenses, where very limited amounts of non-EV/WAV licenses maybe issued every six months for the foreseeable future. In addition, you may also see the rise of 'restricted licenses', which is likely to be discussed when the newly approved Black Car & Livery Industry Task Force comes into session. It's anyone's best guess, but I expect we should all be reading the results of the inaugural August 2020 review fairly soon!
The TLCMKT Newsletter is written by Dawood Mian, Founder & CEO of TLCMKT. I cover the NYC ridehailing industry and related news. Search TLCMKT for TLC cars, parts, service, accessories, reviews & more. Find great deals at TLCMKT.COM.