TLCMKT News (10.12.20): You Can't Escape Uber's Lobbying, Gig Companies Have Spent $185 million on Prop 22, Hospitalizations Increase in New York Amid Second COVID-19 Spike
Select TLCMKT news headlines for Monday, October 12th 2020.
You Can't Escape Uber's Lobbying
 (NY Times)
NY Times columnist Shira Ovide hits out against Uber, Lyft, Doordash and Instacart's aggressive tactics to sway California voters to vote "yes" on Prop 22, which would allow them to avoid classifying drivers as employees.

Imagine if you had opened a box of Cheerios this morning and found a note from General Mills: Pending legislation about genetically modified corn would make your favorite breakfast unavailable or unaffordable.

That would feel odd and unwelcome, right?

Link to story
Uber, Lyft face higher costs regardless of Calif. legal battle outcome (S&P Global)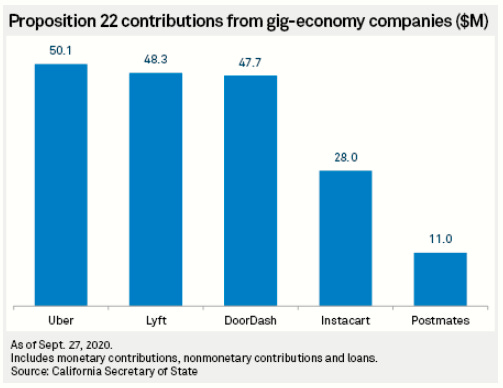 Gig economy companies, such as Uber, are spending big to pass Prop 22, which is an alternative to AB5, a California law that went into effect in January.

AB5 provides a minimum wage — $13 per hour in the state — paid leave, overtime pay and access to federal benefits under the Affordable Care Act and the right for drivers to unionize.

Prop 22 is the alternative the gig economy companies are proposing and calls for paying drivers at least 120% of the local minimum wage for time spent driving, reimbursing drivers 30 cents per engaged mile and offering healthcare subsidies and accident insurance.

The companies also say Prop 22 protects drivers' rights to control their own schedules and gives them the flexibility to work on multiple platforms.

Link to story
Hospitalizations increase in New York amid second COVID-19 spike (NY Post)
878 New Yorkers were hospitalized as of Monday — an increase of nearly 60 patients compared to Sunday's data recording 820 hospitalized individuals.

Statewide the infection rate is 1.1%, but the "cluster zones", which are areas that are being actively monitored and restricted, are reporting a 3.7% positivity rate.

Link to story
NYC 

Weather

 from The Weather Channel

The TLCMKT Newsletter is written by Dawood Mian, Founder & CEO of TLCMKT. I cover the NYC ridehailing industry and related news. Search TLCMKT for TLC cars, parts, service, accessories, professional services, reviews & more. Find great deals at TLCMKT.COM.